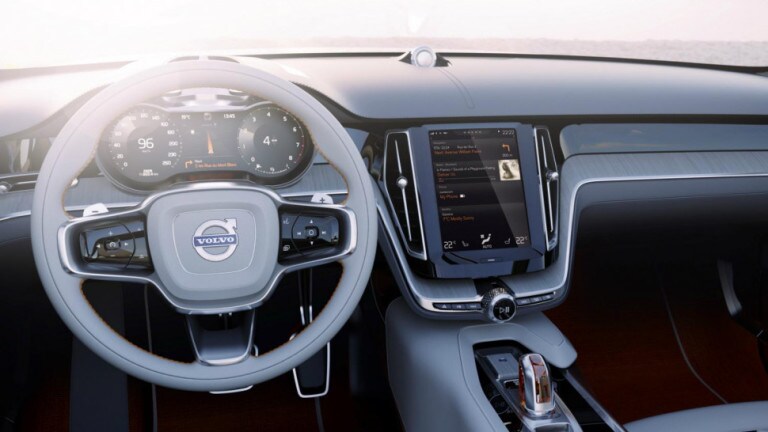 Volvo Cars' Sensus was awarded the 'Most Innovative System' at the 2015 Car HMI Concept & Systems conference in Berlin. Volvo conducted global research on in-car user experience, and they developed a response to the users' emotional and physical needs to redesign the control system. The system now consists of a touch screen interface with an intelligent tiling system.
The HMI system is made up of the touch screen display, the driver information cluster, and the Head-Up Display. The system was designed while keeping in mind that certain information is more prevalent and some is even more time sensitive than other information. Volvo wanted to find a way to provide drivers with as much information as possible, and provide them with the most important information. It can be difficult to do this without overwhelming the driver with information. Volvo had to decide what would be most important, and how they would relay the information to the driver.
Safety is at the heart of Volvo's mission, and they created the HMI with that in mind, along with needing to create something that would be easy to use. Even in cold winter months when you are wearing gloves, you can uses the system. This is something that is unique to Volvo and is not found in every HMI development. This is another way that Volvo provides its drivers with a resource and a tool, rather than a burden.
In-car technology is becoming more people-friendly. The first step was their desire to eliminate the knob, and next was to destroy the need for buttons. Volvo's HMI has a very clean, sleek, and overall Swedish feel and design to it. Getting rid of buttons allowed for the interface to be more intuitive and also for Volvo to build a beautiful interior architecture.  Along with Apple, they've made an HMI that is unbeatable.
At this time, the new HMI system is found in the following models:
The only buttons that can be found are in charge of the media system as quick shortcuts:
Volume
Track Skipping
Track Pausing
Eject
Defrosters
The heart of the system is the large tablet like screen. It behaves like a normal tablet in that it is a touchscreen and responds to swipes and other gestures.  The screen runs along Volvo's interface, allowing you to control music and other phone functions. The screen's four bars are:
Navigation
Media
Phone
CarPlay
To learn more about Volvo's HMI, visit us at Lovering Volvo of Nashua, or give us a call at 603-689-1851!