At Lovering Auto Group, Community Involvement is at the Core of Our Business
Over the past eighteen years, Lovering Auto Group has had the opportunity to get involved with many of the NH area agencies that assist the needy and less fortunate in our communities. Many of the organizations we work with are focused on issues involving the arts, animal protection, education, health, and women's issues. The interest and support of many of these causes has grown organically within our organization, starting with our owners, Rich and Linda Lovering, and also through our employees and loyal customers.
See What We're Up To This Month At Lovering: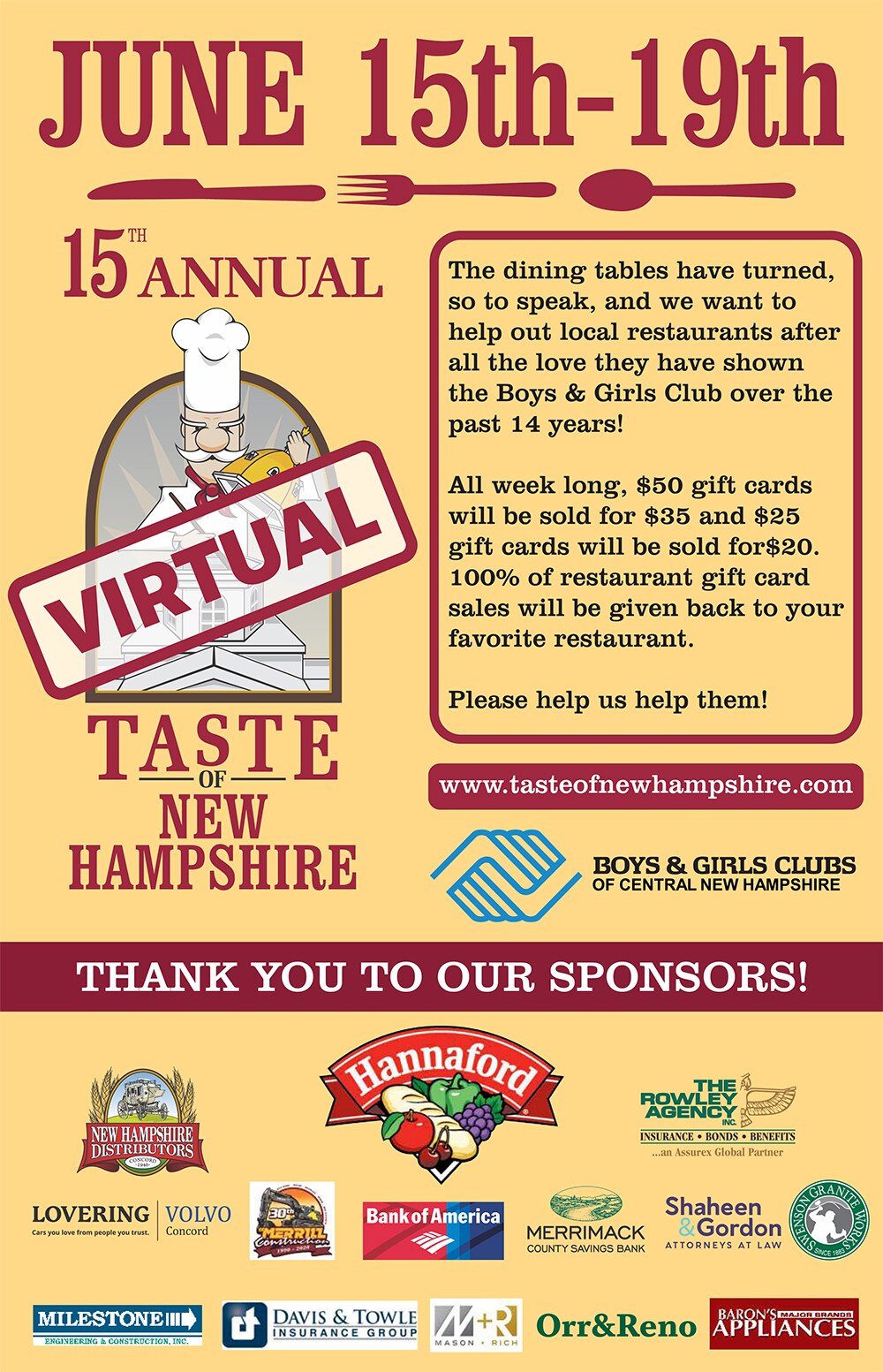 | | |
| --- | --- |
|   | This month Lovering Auto Group is proud to sponsor the 15th annual Taste of New Hampshire event! This year's event is a virtual event taking place from June 15 - June 19th. You can purchase gift cards to your favorite restaurants, bid on silent auction items, and even enjoy live nightly entertainment. Your support helps to provide for the Boys & Girls Clubs of Central NH and our Greater Concord Area local restaurants! |

Lovering Auto Group has a history of serving the community in many different ways. Below are some of the groups that we have been proud to support over the years:


Community Organizations
  
We sponsor the Powered By Women seminar in Manchester, New Hampshire. This second annual conference featured storytelling that showcased the drive, conviction and persistence of executives in the Granite State. Five successful women leaders from different career backgrounds and perspectives shared their stories on their personal and professional growth followed by a panel discussion. 



Powered By Women serves to connect women leaders through these stories that will leaves them feeling empowered and informed to succeed in their endeavors. 

 
| | |
| --- | --- |
|   | The Boys and Girls Club of Greater Nashua provides a safe place for at-risk children to get together and reach their potentials as caring, productive, and responsible citizens. Lovering Volvo Cars Nashua began supporting the organization in 1998 and since then has given donations to help with a variety of programs, including Partners 4 Kids (Lovering Volvo Cars Nashua is a Premier Sponsor year-round), the Youth Dinner, the Spring Fling, the Bids for Kids Auction (Premier Sponsor), the Annual Golf Tournament, and the Nashua Soup Kitchen Run for Food Race. In the spring, Rich and Linda Lovering look forward to the Annual Youth of the Year Dinner & Hall of Fame Celebration. |
| | LRGHealthcare is a non-profit charitable healthcare trust that represents a range of medical providers in the area. The Lovering Auto Group is proud to have donated for the past several years to the foundation's annual heart disease awareness fundraiser, the Red Dress Gala.  |
| | CASA NH (Court Appointed Special Advocates of New Hampshire) is a non-profit, private organization staffed by volunteers advocating in the best interests of neglected and abused children. Rich and Linda donate to the annual CASA Cares Evening of Giving for New Hampshire's Children. Mark your calendars for April 13th in 2018! |
| | Offering trusted patient-centered services made to enhance independence and quality of life, Home Health and Hospice Care has roots going all the way back to 1883. Lovering has aided with both the Home Health and Hospice Gala Wine Dinner and Annual Golf Tournament fundraising events. This year's golf tournament will be held April 8th, and there will be a piano artist from The Front Porch Wine Bar in Ogunquit! |
| | In addition to their support of the Boys and Girls Club of Greater Nashua, Lovering is proud to lend their support to the Boys & Girls Club of the Lakes Region as well. |
| | Lovering Auto Group is proud to support the Boys & Girls Clubs of Central New Hampshire, in addition to the Lakes Region and Greater Nashua Clubs. We love this organization for all that it does to help the youth in our community from snacks and hot meals to inspiring them in programs and activities. The Boys & Girls Clubs of Central New Hampshire provide kids up to 18 years old with a safe place to be when they are not in school. |
| | Linda Lovering is a proud sponsor of the New Hampshire Women's Foundation. The New Hampshire Women's Foundation's mission is to, "…Promote opportunity and equality for women & girls in New Hampshire through research, education, philanthropy and advocacy." Lovering Volvo served the foundation with a sponsorship to the Changing Workplaces meeting in regards to why family-friendly policies matter in 2015. |
| | Committed to the protection of abandoned, neglected, abused, and unwanted animals, the Humane Society of Greater Nashua is a non-profit organization supported wholly by donations, ensuring that their temporary pets are treated with love. In addition to lending support for the Walktoberfest fundraiser in 2011 which featured a morning dog walk, pet-friendly vendors, an obstacle course, and a raffle with over 100 prizes, Rich Lovering also served on their board of directors for several years. Because they receive no aid from the government or organizations like the United Way, the Humane Society of Greater Nashua depends on support from companies like Lovering for their continued existence. In the summer of 2015, Lovering also hosted a puppy adoption day, where all of the furry guests found their new fur-ever homes! |
| | Providers of quality entertainment for all ages, the Interlakes Summer Theatre pairs children and teens with theatre pros to create productions of popular stage shows. They are dependent on the generosity of organizations like Lovering for equipment upgrades and general funding. This year, Linda Lovering sponsored the theater with an ad in the theater's playbill. Here's to a fun season! |
| | NH's only statewide locally owned and operated TV network who works to engage minds, connect communities, and celebrate NH with entertaining programs that also educate us. Their services are commercial-free locally focused and PBS TV programs; educational resources, and a high-tech public safety communications infrastructure. Spring of 2016 Lovering is sponsoring their TV auction with a Platinum Reconditioning package. |
| | A non-profit theatre aims to provide a challenging and fun theatrical environment for both visitors and Lakes Region residents alike. Founded in 2004, this cultural gem owes much to the generosity of donors such as Lovering. This year, Rich and Linda have donated another generous sponsorship to the group! |